Skipping Stone Paperweight
Skipping Stone Paperweight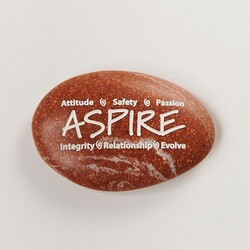 You will not need a stream bed to get your hands on these stones. An imprint and color fill are included with no additional charges. Made in the USA and contains recycled materials. Used for desk awards, rock handouts, milestone, donor gift, alumni gift, executive gift, employee appreciation, groundbreaking, dedication, trip incentive, commemorative, or anniversary gift.
Normal Production Time:
10 Working Days
Product Size:
3 " X 1/2 " X 2 "
Product Weight:
0.15
Additional Information:
PriceIncludeClr: 1 color

PriceIncludeSide: 1 side

PriceIncludeLoc: 1 location

IsEnvironmentallyFriendly: True

ImprintSize1: 2

ImprintSize2: 1.25

ImprintLoc: 2" x 1 1/4"

DecorationMethod: Laser etched

Packaging: Foam Pouch

Shipping INFO: Shipping Carton: 17 IN X 15 IN X 11 IN; Weight Per Carton: 64.5 LB; Units Per Carton: 250

Comment: This product can also be UV Printed for the same piece price. There is a $62.50(G) Print Set-Up.
Alabaster Dark Granite, Alabaster Elite, Alabaster Light Granite, Alabaster Marble, Alabaster Onyx, Aspen Dark Granite, Aspen Elite, Aspen Light Granite, Aspen Marble, Aspen Onyx, Black Dark Granite, Black Elite, Black Light Granite, Black Marble, Black Onyx, Crimson Dark Granite, Crimson Elite, Crimson Light Granite, Crimson Marble, Crimson Onyx, Espresso Dark Granite, Espresso Elite, Espresso Light Granite, Espresso Marble, Espresso Onyx, Grey Dark Granite, Grey Elite, Grey Light Granite, Grey Marble, Grey Onyx, Hunter Green Dark Granite, Hunter Green Elite, Hunter Green Light Granite, Hunter Green Marble, Hunter Green Onyx, Merlot Dark Granite, Merlot Elite, Merlot Light Granite, Merlot Marble, Merlot Onyx, Navy Dark Granite, Navy Elite, Navy Light Granite, Navy Marble, Navy Onyx, Ocean Blue Dark Granite, Ocean Blue Elite, Ocean Blue Light Granite, Ocean Blue Marble, Ocean Blue Onyx, Red Dark Granite, Red Elite, Red Light Granite, Red Marble, Red Onyx, Riverstone Dark Granite, Riverstone Elite, Riverstone Light Granite, Riverstone Marble, Riverstone Onyx, Royal Blue Dark Granite, Royal Blue Elite, Royal Blue Light Granite, Royal Blue Marble, Royal Blue Onyx, Ruby Dark Granite, Ruby Elite, Ruby Light Granite, Ruby Marble, Ruby Onyx, Sandstone Dark Granite, Sandstone Elite, Sandstone Light Granite, Sandstone Marble, Sandstone Onyx, Teal Dark Granite, Teal Elite, Teal Light Granite, Teal Marble, Teal Onyx, Terracotta Dark Granite, Terracotta Elite, Terracotta Light Granite, Terracotta Marble, Terracotta Onyx, Verde Green Dark Granite, Verde Green Elite, Verde Green Light Granite, Verde Green Marble, Verde Green Onyx, White Dark Granite, White Elite, White Light Granite, White Marble, White OnyxBlack, Bright Red (485), Brown (469), Burgundy (202), Crème (7534), Dark Brown (4625), Gray (Cool Gray 10), Green (349), Metallic Copper, Metallic Gold, Metallic Silver, Navy (289), Orange (151), Purple (268), Red (7427), Royal (286), White, Yellow (108)
Price:


6.50

(Each)

6.20

(Each)

5.85

(Each)

5.55

(Each)