Wipe-It NOW! Screen Cleaners
Wipe-It NOW! Screen Cleaners
#WIN-RC Rectangle Microfiber Cleaner - Microfiber Screen Cleaner for Mobile Phone Device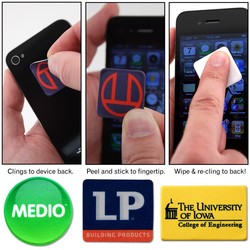 Wipe-It NOW Screen Cleaners are always available for a quick wipe! Safely and completely cleans and polishes the view screens of cell phones, mp3 and DVD players, laptops, and GPS devices. Adhesive microfiber material clings to device back for quick access. Sticks to fingertip to clean screen. Re-usable and washable. Stock rectangle shape (Stock square, round and custom shapes available). Includes four color process imprint. Packaged with full color card insert in individual poly bag.
Normal Production Time:
15 Working Days
Product Size:
1-1/4" x 7/8" rectangle
Product Weight:
7lbs/1000
Made In:
China
Additional Information:
Also available in square, rectangle and custom shapes.
Absolute minimum 600 pieces.
There is not any detailed option information available for this product.
Price:


1.10

(Each)

0.95

(Each)

0.83

(Each)
Setup Charge: $60.00 Each